Contact Your US Representatives
Democracy.io - Contact your Members of Congress
Send emails to members of the United States House and Senate in just a few easy steps.

Town Hall Project - Find a Town Hall Near You
A volunteer-powered, diverse, open-source, grassroots effort that empowers constituents across the country to have face-to-face conversations with their elected representatives. They research every district and state for public events with Members of Congress.
The Town Hall Project offers their town hall event list to everyone, across the entire political spectrum.
Get off your ass, show up & speak out.

5Calls.org | Make Your Voice Heard
5 Calls makes it easy and convenient to contact your representatives.
Turn your passive participation into active resistance.
Calling your Government on the phone can create the change you want to see & is the most effective way to influence your representative.
Spend 5 minutes, make 5 calls. Short scripts for what to say are provided as well.
This is brilliant and simple!
Get the app for Apple or Android.

Resistbot | Hold Your Elected Officials Accountable
Resistbot will ask for your name and information to find your elected officials.
Your representatives will know you're a constituent - that's who matters to them.
How does it work?
"Resistbot turns your text messages into daily letters to Congress — in the simplest and easiest way possible. We are working hard behind the scenes to make sure they are delivered and that your representatives take them seriously."
Just text resist to 50409 to get started.
It takes less than 5 minutes to have your voice heard in Congress.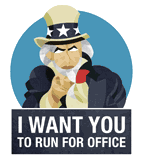 How To Run For Office.
Have you ever thought about running for office, or know someone who should?
Run for Office is a free service that provides all the tools you need to launch a successful campaign whether you are a seasoned veteran or first-time campaigner.