What is the order of succession in the US?
Anonymous writes...
"What is the order of succession should the President die, become incapacitated, or is otherwise unable to finish his term of office?"
   
The order of succession is as follows: Vice President, Speaker of the House, President Pro Tempore of the Senate, Secretary of State, Secretary of the Treasury, Secretary of Defense, Attorney General, and Secretaries of the Interior, Agriculture, Commerce, Labor, Health, Housing, Transportation, Energy, Education, and Veterans Affairs. (Presidential Succession Act of 1947.)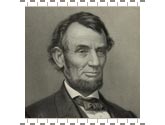 "Those who deny freedom to others, deserve it not for themselves; and, under a just God, can not long retain it."
⇾ Abraham Lincoln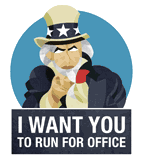 How To Run For Office.
Have you ever thought about running for office, or know someone who should?
Run for Office is a free service that provides all the tools you need to launch a successful campaign whether you are a seasoned veteran or first-time campaigner.