US Elections ~ District of Columbia
Directory of DC elections. DC candidates for Mayor, officers and City Council. District of Columbia primary and election races, political parties and DC election office.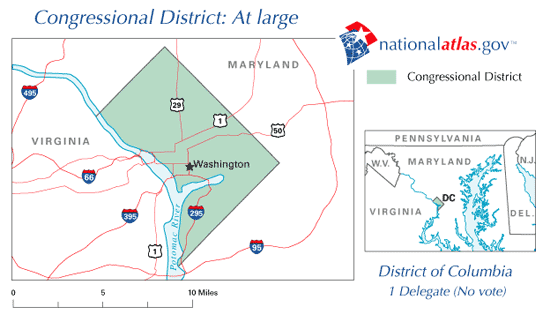 Election, Primary & Caucus Dates:
DC Primary: June 2, 2020
- - - - - - - - - -
Presidential Primary: June 2, 2020
Type: closed
Democrat Delegates: 46 (20 pledged, 26 super)
Republican Delegates: 19
- - - - - - - - - -
D.C. Electoral Votes: 3
The Electoral College consists of 538 electors.
A majority of 270 electoral votes is required to elect the President.

PROTECT YOURSELF. The Amazing New Shockwave Torch Makes Bad Guys SH*T Their Pants In Terror. It can drop a ripped 260-lb. thug in 2 seconds or less! Special deal. Get one today.

Take Control Of Your Identity & SECURE YOUR PRIVACY In 10 Easy Steps. Protect yourself from scam artists, big business & big brother right now. Read this while you can.
Voter Information:
For eligibility & identification requirements, dates, deadlines, voting materials, contact info and more: [ click here ].
All important election dates & deadlines for voters: [ click here ].

Poll Opening & Closing Times:
Polls are open 7:00 AM to 8:00 PM Eastern Time.
Next State Constitutional Officer Elections in 2022.
Washington, D.C. Mayor:
Muriel Bowser (D) | Campaign Website
D.C. City Council Chair:
Phil Mendelson (D) | Campaign Website
Attorney General:
Karl Racine (D) | Campaign Website

D.C. City Council At-Large (2 Seats - 2020):
(Note: Each party nominates one candidate apiece; In the General Election, the top two vote-getters win.)
David Grosso (Independent)
* Retiring in 2020.
Robert White (D) | Campaign Website
* Term Expires in 2020.
Anita Bonds (D)
* Term Expires in 2022.
Elissa Silverman (Independent) | Campaign Website
* Term Expires in 2022.

Congressional Delegate:
At Large:
Eleanor Holmes Norton (D)
Will You Make These 3 Fatal Mistakes In A Crisis?
In A Dire Food Shortage, What Will Your Family Eat?
D.C. Election Office:


D.C. Board of Elections & Ethics
(Get voter registration & information. Polling places and times. Absentee voting. Ballot measures. District maps. Election FAQ.)
D.C. Political Parties:


D.C. Democratic Party


Libertarian Party of D.C.


D.C. Republican Party


D.C. Statehood-Green Party

Never Be Scared When Faced With A BULLY or VIOLENT ATTACKER Again. Discover the hand-to-hand fighting system so simple you can learn it in hours. Used by Tier 1 special forces units. Click here to learn more now.