Why don't we have write-in votes?
Benny B writes...
"I wan't to know why we don't have write in votes. That's telling me I can't vote for my candidate. Neither nominee is good for America, but we're forced to vote Party lines that we disagree with or not vote at all. I'm really perturbed with the whole bunch of them."
We do have write-in candidates / votes! You may vote for whomever you wish on your ballot. Primaries are a little different depending on whether they are "open" or "closed" in your state, but you may still write-in your choice if he/she is not listed on your ballot. In the general election, you are NOT forced to vote according to party lines. If you disagree with your party's candidate, vote for (or write-in) anyone you wish.
Do NOT feel forced into voting for someone you don't want to. This is very important! I get this question A LOT. You CAN vote for whomever you want to. Do not let anyone tell you otherwise.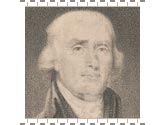 "All tyranny needs to gain a foothold is for people of good conscience to remain silent."
⇾ Thomas Jefferson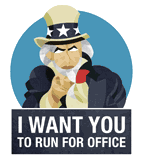 How To Run For Office.
Have you ever thought about running for office, or know someone who should?
Run for Office is a free service that provides all the tools you need to launch a successful campaign whether you are a seasoned veteran or first-time campaigner.