Will switching parties change how I can vote?
Cathy F. writes...
"I live in columbus, ohio i think i might be register as an independent. can i still vote republican without changing my status."
Yes, you can still vote Republican in the GENERAL ELECTION in November.
You can vote for anybody you wish once you step in the voting booth, no matter how you are registered.
I am registered Independent in Florida and vote for who I feel is the best candidate each general election (no matter which party they are associated with).
HOWEVER, as a registered independent you may not be able to participate in your state's republican or democrat primary (or caucus in other states).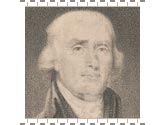 "All tyranny needs to gain a foothold is for people of good conscience to remain silent."
⇾ Thomas Jefferson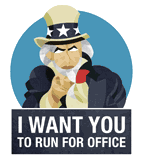 How To Run For Office.
Have you ever thought about running for office, or know someone who should?
Run for Office is a free service that provides all the tools you need to launch a successful campaign whether you are a seasoned veteran or first-time campaigner.